We give our ONAK folding canoe the ultimate test on the Miramichi River with Storeytown Cottages & River Adventures, Doaktown, New Brunswick, Canada.
You can practically float all the way down the river," we were assured. "It should take you two to three hours depending how much you paddle."Hmm… a three-hour boat tour. Why did this sound eerily familiar and where is Gilligan when you need him?
We hadn't set out to have an epic adventure on the Miramichi River that morning. It was a gorgeous September day; unseasonably warm with the heavy, golden light that graces the Maritime Provinces during our Indian summers.
We were heading towards the final stop on a whirlwind media trip to discover more of New Brunswick's Acadian Coast. After a long spring and summer of slow travelling in our home on wheels, it was strange to be sleeping in a different bed every night. However, we loved experiencing the region's vastly different accommodations, from charming Bed and Breakfasts to luxury hotels, and hearing their owners' unique stories.
Our Onak Canoe Adventure on the Miramichi River, New Brunswick, Canada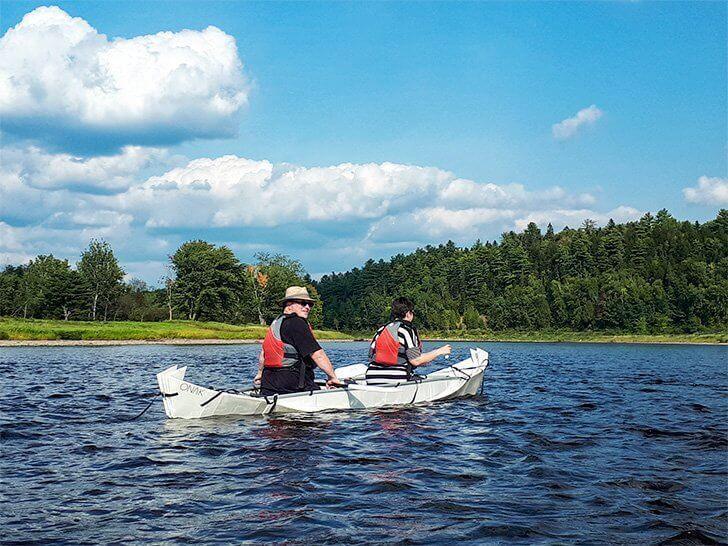 Our ONAK origami canoe takes to the Miramichi River, New Brunswick, Canada
Before we could hit the water, we had one more appointment. As the final stop on our New Brunswick tour, we had agreed to meet our new contact at NB Tourism at Storeytown as well. When Anna-Lee arrived, we hit it off right away. As an accomplished kayaker herself, it didn't take much arm-twisting to convince her to join us for an outing on the river – all in the name of research of course.
We were deposited at the base of the McNamee/Priceville Footbridge, the longest suspension footbridge in New Brunswick at 200m. As always, while we assembled our folding canoe, we drew a small crowd of curious onlookers. By now we had half a dozen attempts at constructing our Onak, and it didn't take us nearly as much time to get our canoe in the water. It wasn't long before we were floating lazily under an almost cloudless sky.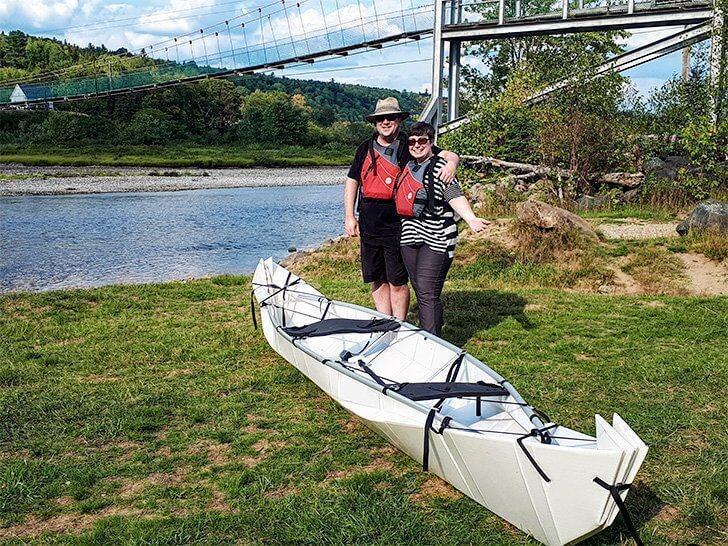 Ready to paddle at the McNamee/Priceville Footbridge on the Miramichi River, NB
While we paddled, we chatted with Anna-Lee about our adventures in New Brunswick, her new job with NB Tourism, and most of all, how lucky we were our jobs permitted us to be out on the water on such a stunning autumn day. Spending most of our days hunched over our respective computers paid off in dividends like this perfect afternoon.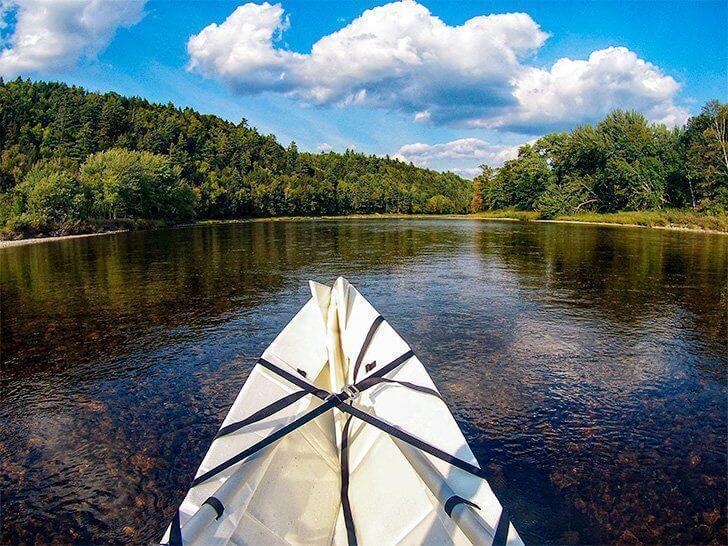 It would be hard to ask for a better day than canoeing on the Miramichi River
As we half-paddled half-floated down the river, I began to notice the water becoming shallower. In my forward position as 'rock scout,' it was my job to keep an eye out for obstacles. The problem was, the entire river was becoming an obstacle. With its flat bottom, our Onak rides relatively shallow in the water, but our back end was beginning to scrape bottom. Andrew decided to hop out and pull me along until we hit deeper water. Anna-Lee waited for us up ahead in her kayak.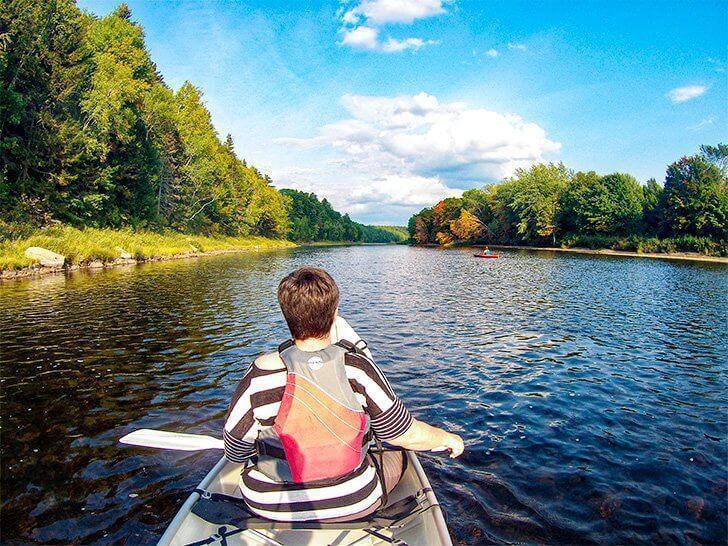 Anna-Lee paddles her kayak ahead as I scout for rocks and shallow water on the Miramichi River
We continued to navigate shallower and shallower water. The unseasonably warm temperatures had dried up the Miramichi more than usual until even Anna-Lee had to bail out of her kayak. Navigating the rocky river bottom on foot was no easy task. We did, however, briefly pick up a hitch-hiker. Anna-lee almost stepped on a small turtle who blended almost seamlessly with the surrounding rocks.
Meeting friends on the Miramichi River like this small turtle.
We continued down the river, at times walking more than we were paddling. We were concerned the constant scrapping was going to tear the bottom of our lightweight canoe to shreds. This concern turned out to be the least of our worries.
We had just pulled up alongside Anna-Lee who had been waiting for us just beyond a small set of rapids we managed to navigate easily. As we paused, the wind came up, and our bright blue sky suddenly darkened. They say if you don't like the weather in the Maritimes to wait five minutes, but this was unlike anything we had ever seen.Looking at the GPS on her phone, Anna-Lee informed us we still had quite a way to go to get back to Storeytown. Our lazy float down the river had become an all-hands-on-deck paddle against the wind. Muscles we didn't know we had were screaming as we alternated between paddling and walking the shallow water. As we approached each new island, we hoped this was the one that faced Storeytown.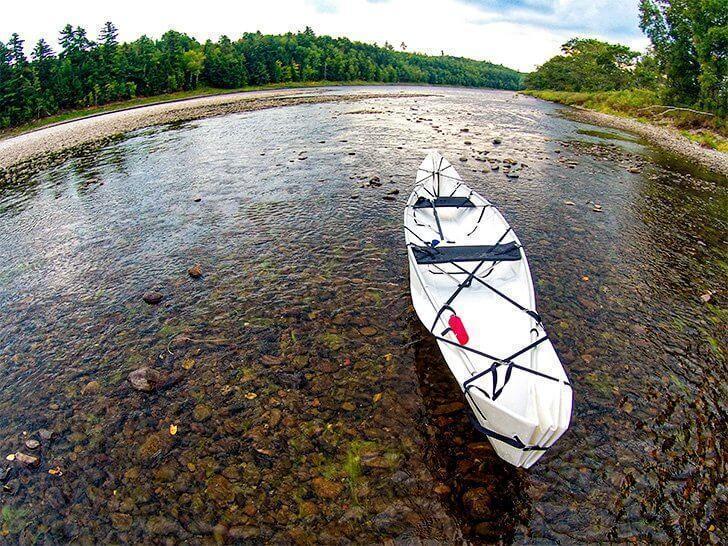 Too shallow to paddle on the Miramichi River, NBWhat felt like an eternity later, we saw the cabins ahead, and Jeremie and Scotch waited on the riverbank to help haul us ashore. Our journey had taken twice the amount of time it should have. Anna-Lee was late for another engagement, and we felt ready to collapse. All we could do was laugh – mere hours ago we had been marvelling at our luck with the weather. Mother Nature had undoubtedly shown us why we shouldn't take her graces for granted.We bid farewell to Anna-Lee and quickly changed out of our wet clothes. Luckily, Christine had prepared a feast for us, and her hearty stew and fresh-baked bread was just the thing to restore our calorie levels. After supper, we sunk into the hot tub to ease our screaming muscles. Despite the unexpected weather and workout, it had been a fantastic day on the Miramichi. We were also thrilled to see our Onak folding canoe had survived the trip almost entirely unscathed. While we're both eager to experience the Miramichi River again (I'd love to try tubing and paddleboarding), we're going to opt for a bit more water next time!We were thankful we had the opportunity to discover this hidden gem in the centre of New Brunswick, and we hope to return for a longer stay to experience more of what the Miramichi River and Storeytown Cottages have to offer.
We'd like to thank Christine, Jeremie, and Scotch for hosting us at Storeytown Cottages, and Anna-Lee of NB Tourism for joining us on our river adventure. We'd also like to extend our thanks to New Brunswick Tourism for hosting our stay on New Brunswick's Acadian Coast. As always, all opinions remain ours alone.
More stories from Alison and Andrew, go visit https://cheeseweb.eu